Drain Strain - As Seen on Shark Tank!
In 2015, inventor Naushad Ali presented his revolutionary Drain Strain product to the investors on ABC's Shark Tank. With the help of Robert Herjavec's investment, Drain Strain now helps prevent clogs in your sink and bathtub with our latest Drain Buddy products, a line of 2-in-1 stoppers and hair catchers.
Drain Buddy - Our Latest 2-in-1 Stoppers & Hair Catchers
Drain Strain products seamlessly blend the aesthetic appeal of today's standard drain stoppers with an in-drain basket that catches hair, jewelry, contact lenses, and any other foreign object that clogs your drain. Our latest Drain Buddy products are even easier to use than our original Drain Strain product featured on Shark Tank! Drain Buddy Ultra Flo is now available for both your sink and bathtub, with no installation needed!
Customer Testimonials
We love our Drain Strain and Drain Buddy customers. It's great to know the feeling is mutual!
I just had to let you know how impressed we are with the drain strainer! To begin with, the delivery was fast & efficient. The product itself is top quality, and is already working well! It's easy to use and something we have been needing.
Great product with great product support. Now I don't have to clean my wife's hair out of the bathtub drain with a coat hanger.
This is a pet lovers dream...wow I knew my 2 year old yellow lab was hairy, but this Drain Strain worked great.
Wow I needed this. I have long hair and it seems to clog my sink drain often as that's where I brush my hair. This solved the problem in an attractive and easy to clean way. I love the sleek design and found this to be easy to install.
I've spent hundreds of dollars in the past having my drain snaked out by a plumber. The basket catches hair and others stuff and prevents your drain from getting clogged...worth the investment!
Why You Need Drain Strain Products
The 2-in-1 drain stopper and hair catcher you never knew you needed. Start preventing clogs and saving on your plumbing bills today!
Get Drain Buddy Ultra Flo for Your Bathroom or Kitchen Sink
We took our patented 2-in-1 sink drain stopper and strainer design and made it even better with our Drain Buddy Ultra Flo for Sinks - No installation required!
Drain Buddy Ultra Flo Is Also Available for the Bathtub!
Because we all hate being in the shower with water half way up our shin, our 2-in-1 Drain Buddy Ultra Flo Tub Hair Catcher and Drain Stopper will keep your bathtub drains clog free.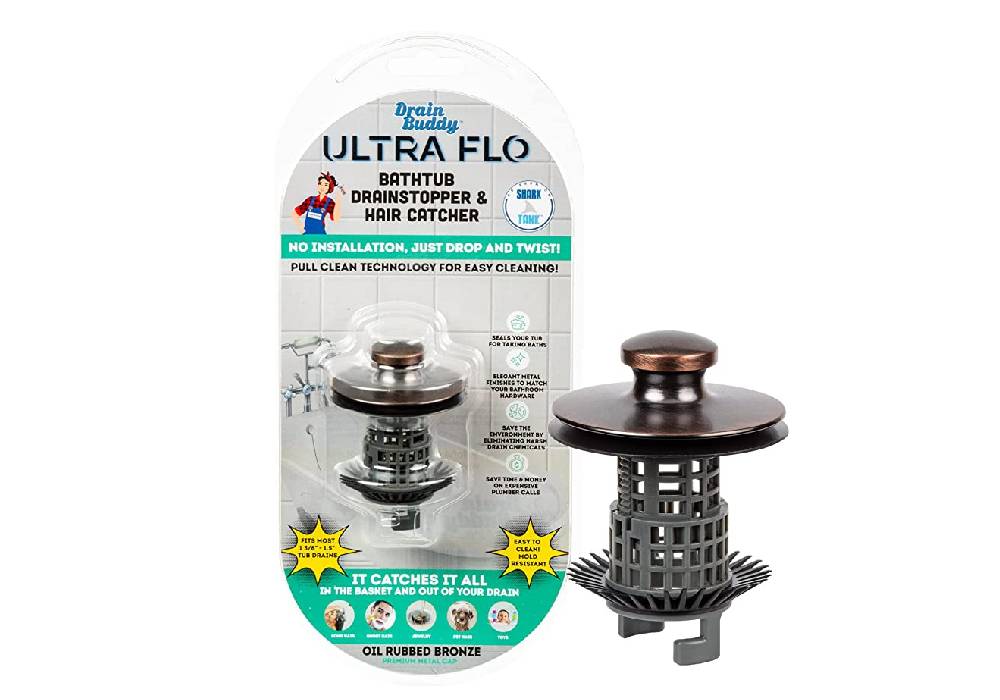 Our Retail Partners
Find our Drain Strain products at these popular retailers: