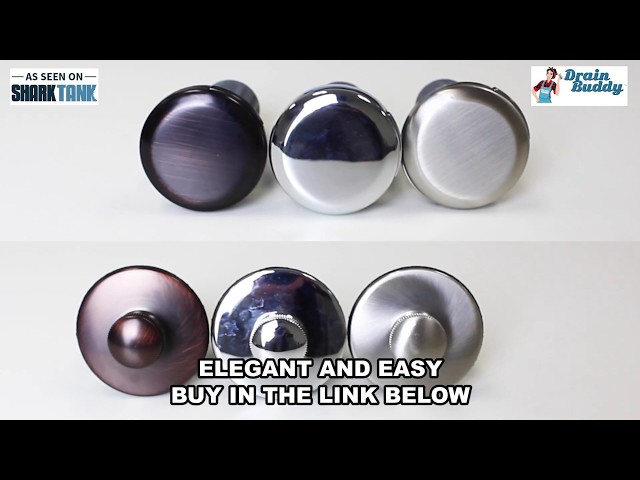 Prevent Sink and Tub Clogs to Avoid Costly Plumbing Bills
Say goodbye to clogged drains, lost valuables and costly plumbing repairs. Prevent it all with Drain Buddy's 2-in-1, no-installation sink and bathtub stopper and strainer.
The Basket Does All The Work
It Catches It All
Clog Free. Worry Free
As seen on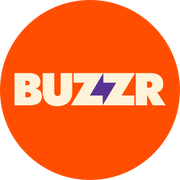 Drain Strain - As Seen on Shark Tank!
In 2015, inventor Naushad Ali presented his revolutionary Drain Strain product to the investors on ABC's Shark Tank. With the help of Robert Herjavec's investment, Drain Strain now helps prevent clogs in your sink and bathtub with our latest Drain Buddy products, a line of 2-in-1 stoppers and hair catchers.
Hassle-Free Drain Protection for Your Entire Home
Tired of never-ending sink and tub clogs that lead to inconvenient and costly plumbing repairs? Put an end to these nuisances with Drain Buddy, the no-installation stopper and strainer that not only safeguards your plumbing but enhances the functionality of your bathroom and kitchen sinks.
When you add a Drain Buddy to your kitchen and bathroom drains, your home transforms for the better. Here's what to expect when you invest in a Drain Buddy:
No Clogs or Plumbing Bills
Avoid expensive plumbing costs by keeping drains clear of debris.
Effortlessly Maintained Sinks& Tubs
Keep your kitchen and bathrooms hygienic and mold-free.
2-In-1 Strainer & Stopper
Get a combined strainer and stopper at a lower price.
No Installation Required
Save time with a hassle-free and tool-free setup.
Get Drain Buddy for Both Your Sinks and Bathtubs
Ensure comprehensive drain protection for your sinks and bathtubs with Drain Buddy's two specialized solutions.
With Drain Buddy in place, you can keep your valuables, contact lenses and other items within reach, prevent debris build-up and steer clear of costly plumbing repairs. Invest in the peace of mind for your entire home today with both the Ultra-Flo Sink and Bathtub Drain Buddy products: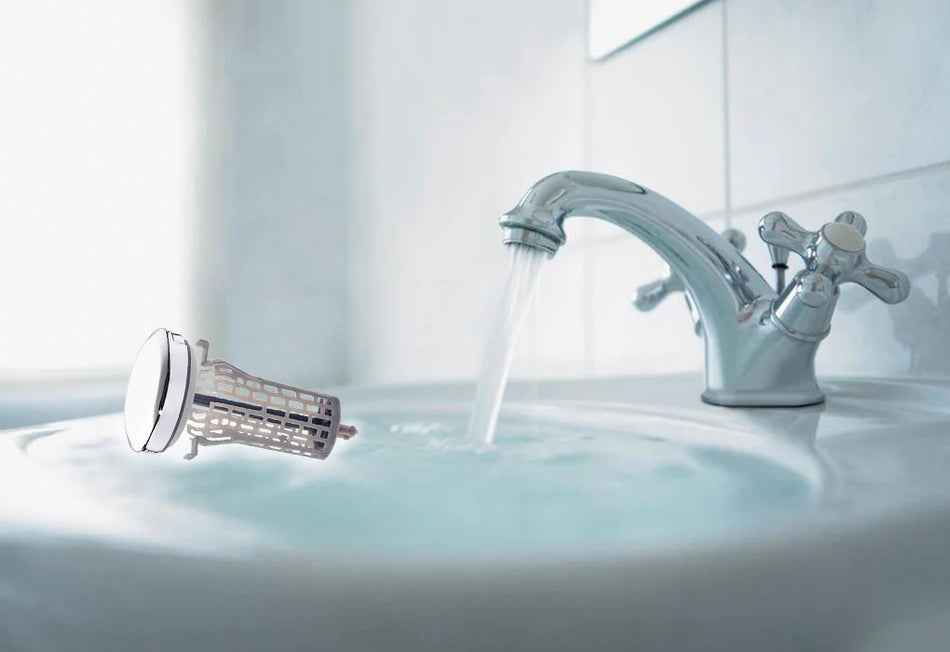 Drain Buddy Ultra-Flo for Sinks
Fed up with water in your bathroom sink draining at a snail's pace? Put an end to this annoyance with Drain Buddy Ultra-Flo for sinks. This versatile 2-in-1 solution serves as both a bathroom sink drain stopper and a hair catcher, all without the need for any tools or installation.
Drain Buddy Ultra-Flo for Bathtubs
Tired of standing in ankle-deep water during showers? Make clogged drains a thing of the past with Drain Buddy Ultra-Flo for bathtubs. This 2-in-1 solution functions as both a bathtub drain stopper and a hair catcher, with no installation required.
Get Your Drain Buddy Now!
Drain Buddy Tub
2 In-1 Drain Stopper & Hair Catcher
No Installation Required
Prevents Messy Clogs
Hassle-Free Cleaning
Seamless Switching From Drain to Stopper
$14.99
+ 6.99 P&H
Drain Buddy Sink
2 In-1 Drain Stopper & Hair Catcher
No Installation Required
Prevents Messy Clogs
Hassle-Free Cleaning
Seamless Switching From Drain to Stopper
$14.99
+ 6.99 P&H
Starter Bundle
(2) Drain Buddy Sinks + (2) Drain Buddy Tubs
2 In-1 Drain Stopper & Hair Catcher
No Installation Required
Prevents Messy Clogs
Hassle-Free Cleaning
Seamless Switching From Drain to Stopper
$59.99
+ $6.99 P&H
Multi-Pack Bundle
GET FREE SHIPPING
(2) Drain Buddy Sinks + (2) Drain Buddy Tubs
2 In-1 Drain Stopper & Hair Catcher
No Installation Required
Prevents Messy Clogs
Hassle-Free Cleaning
Seamless Switching From Drain to Stopper
$59.99
+ FREE SHIPPING
Drain Buddy Doesn't Require Any Installation — Here's How It Works
1. Remove Current Stopper
Swap out your sink and/or tub stopper to clear the way for your new Drain Buddy.
2. Insert Drain Buddy
Place Drain Buddy into your sink/tub's drain and you're done — it's as simple as that!
3. Enjoy Clog-Free Drains
Experience hassle-free, clog-free drains and avoid expensive plumbing bills.
What Sets Drain Buddy Apart From Other Strainers and Stoppers?
Without Drain Buddy, you risk dealing with persistent sink and bathtub clogs that can lead to inconvenient blockages, costly plumbing repairs and the frustration of watching your valuables, such as jewelry and contact lenses, vanish down the drain.
Don't wait for these plumbing woes to disrupt your daily routine; invest in Drain Buddy today for a cost-effective and worry-free plumbing solution that other stoppers and strainers don't provide.
Drain Buddy Ultra-Flo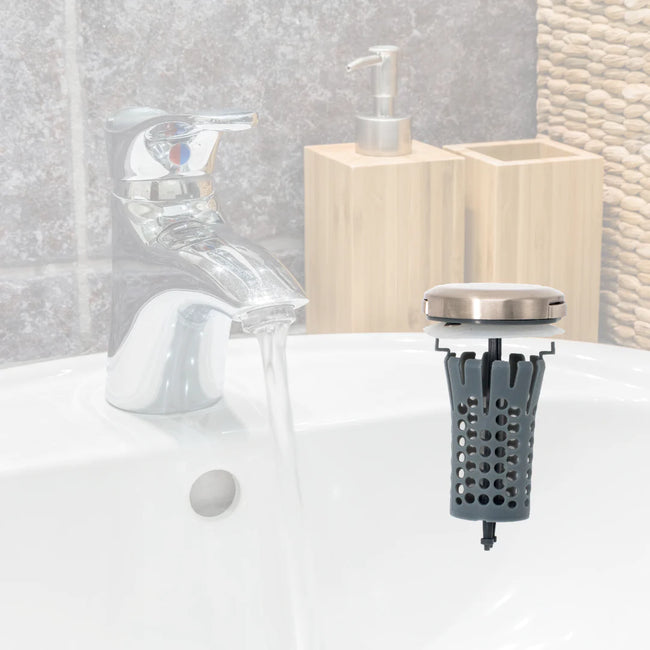 Dual Functionality: Works as a stopper and hair catcher in one.
No Installation: Setup is tool- and hassle-free.
Prevents Valuables Loss: Safeguards jewelry, contacts and more.
Effortless Cleaning: Easy to maintain.
Versatile Fit: Fits all standard drains.
Prevents Costly Repairs: Helps you avoid plumbing expenses.
Aesthetic Design: Complements your existing decor.
Other Strainers and Stoppers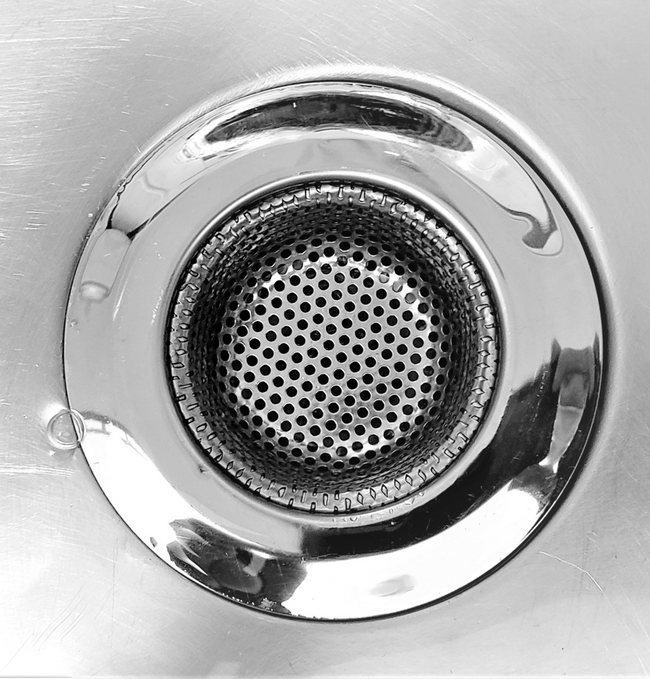 Limited Functionality: Not a 2-in-1 solution.
Installation Hassle: May require complicated setup.
Valuables at Risk: Risk of loss of your things.
Difficult Cleaning: Not as easy to maintain.
Limited Compatibility: May not fit all standard drains.
Won't Prevent Costly Repairs: May lead to expensive plumbing costs.
Visually Disruptive: May clash with your existing decor.
Answers to your questions
Will Drain Strain® work in my sink?
Drain Strain® is designed to be a universal replacement stopper for lever actuated drain stoppers and tested to fit in over 90% of the drains in households today. Drain Strain® does not currently work as a replacement for "push-push" drain stoppers.
Is Drain Strain easy to install in my sink?
Yes! Simply remove your current drain stopper and install the Drain Strain® Never-Clog Stopper like you would any other drain stopper. Just make sure to set the height of the basket so that the top of the basket sits below the drain. (We also now sell our no-installation Drain Buddy sink stopper.)
Can I clean and reuse my Drain Buddy basket?
Yes! You can certainly clean out the basket and reuse it or "never touch the gunk" by recycling it and replacing it.
How often do I have to replace my basket?
Replacement frequency will vary depending on the user. We anticipate the heaviest of users will clean out or replace baskets once a month and in low use sinks it could be as infrequent as once a year. On average you should clean or replace your baskets every 6-10 weeks.
But we want you to feel good about what you're taking. That's why we offer a 90-day money-back guarantee. You may also reschedule or cancel your subscription easily from your account at any time. Still not ready to commit? You can opt for the one-time purchase option without the complimentary Starter Kit and promotional price.
Are Drain Buddy baskets recyclable?
What colors are available and will they match my faucet?
Currently the Drain Strain cap is available in 3 colors: Chrome, Brushed/Satin Nickel and Oil Rubbed Bronze. We will be using the most common finish in Brushed Nickel and Oil Rubbed Bronze so it will look close to what you have in your sink currently. We cannot guarantee an exact match due to the variety of different faucets in the market today but Drain Strain® is by far the most attractive and easiest clog prevention solution ever created!
What if Drain Strain doesn't fit in my sink?
We have done everything we can in the design process to avoid this from happening. In the unlikely event that it does not work for you, you can contact us and we can send you a drain pipe that will work with the basket (chrome only), and you can replace the tailpipe or you can simply ship it back to us (returns address will be included in your packing slip) for a full refund of purchase price. No questions asked.
How do I install Drain Strain®?
We have several videos about how to install Drain Strain as well as Drain Buddy product instructions. But it is simple to do. Simply remove your existing drain stopper by unclipping the rod below your sink and loosening the connector. That will allow you to remove the existing stopper. Then simply drop the Drain Strain® in to the top of your drain and the rod will connect into one of the 5 holes. Tighten the connector and put the clip back on and drain clogs will be a permanent thing of the past for you!
Break Free from Drain Problems with Drain Buddy
No more costly plumbing bills and never-ending clogs. Get Drain Buddy for your sinks and tubs to enjoy clear drains and peace of mind you can count on.